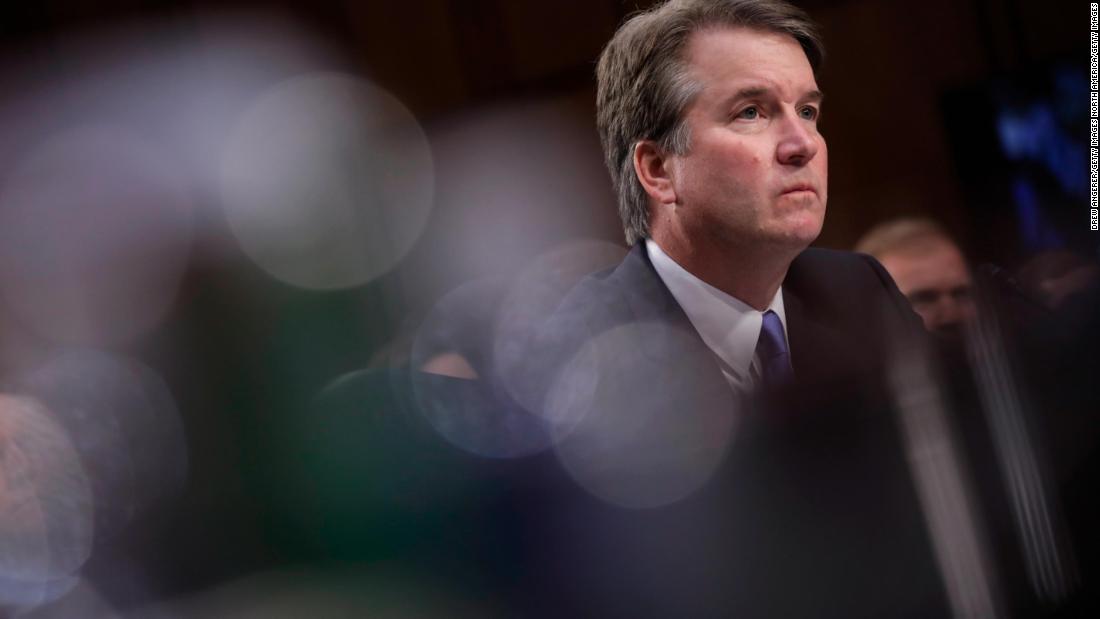 Washington (CNN)Protests at the US Capitol and ads on TV in her home state have surrounded Maine Republican Sen. Susan Collins, pushing her to oppose embattled Supreme Court nominee Brett Kavanaugh's confirmation to the high court.
Two different women — Christine Blasey Ford and Deborah Ramirez — have now publicly come forward with allegations against Kavanaugh that have upended the Senate vetting process for the nomination and thrown into question whether he will be confirmed. Kavanaugh has denied both allegations and the White House has continued to stand by him, with President Donald Trump on Monday
calling the allegations
"totally political."
Collins declined to comment on the latest allegation Monday from The New Yorker, telling reporters, "I'm not going to make statements right now. I will later."
Protests in the Capitol
Protesters sought to put pressure on Collins on Monday morning, showing up at her Senate office.
An aide from Collins' office came out into the hallway at one point to listen to the protesters.
The protesters implored the senator to take a stand sooner rather than later, saying: "Collins needs to make a decision now when it matters and stand up for us."
Another protester indicated that she was still holding out hope that Collins would be a "no" vote on Kavanaugh's nomination, saying, "We believe that Senator Collins can be a hero."
Capitol Hill police worked to make sure that people had room to move throughout the hallways, and police later arrested protesters occupying the hallway outside of Collins' office. An exact number of arrests was not immediately known.
On Monday morning, a large group of people, including Yale students, made their way through the atrium of the Hart Senate Office Building, saying that they were headed to various Senate offices.
Several organizations, including
NARAL Pro-Choice America
and the
National Women's Law Center
, posted messages on Twitter promoting a national walkout and moment of solidarity in support of Ford and Ramierz set for 1 p.m. ET on Monday afternoon. A
Facebook page
for the event said demonstrators will gather in the Hart atrium at 12:30 p.m. ET and then march to the Supreme Court.
TV ad war
Collins is also facing a barrage of television, digital and newspaper advertisements in her home state urging her to oppose Kavanaugh's nomination.
Demand Justice, a progressive group leading the anti-Kavanaugh fight, last week announced a $700,000 ad buy targeting four Republicans: Collins and Murkowski, whose states are seeing it air on TV, and Nevada Sen. Dean Heller and Colorado Sen. Cory Gardner, who are in states where the ads are online.
The ads
highlight Ford's allegation that Kavanaugh physically and sexually assaulted her as a 17-year-old — including her claim that Kavanaugh covered her mouth with his hand when she tried to scream — and asks: "Will Susan Collins listen to her now?"
NARAL Pro-Choice America
launched online ads
last week urging people to call Collins and Heller and tell them to vote against Kavanaugh. The ads also highlight Ford's allegation and ask the senators: "What more do you need?" It comes after ads focused on the possibility that Kavanaugh could overturn Roe v. Wade, the Supreme Court decision that legalized abortion nationwide. Altogether, NARAL says it has spent about $760,000 in Maine.
The Progressive Change Campaign Committee last Thursday began using full-page advertisements targeting Collins and Murkowski in their hometown newspapers. The ads highlight Roe v. Wade, but also include Ford's allegation against Kavanaugh and cast the nominee as a "danger to women."
Over the weekend, the progressive group UltraViolet
launched an ad campaign
telling Republican senators: "Don't put another sexual predator on the Supreme Court." It's a digital ad in Maine but is airing on television in Nevada, Arizona and West Virginia.
Maine has seen pro-Kavanaugh ads, too. The Mitch McConnell-aligned nonprofit One Nation announced in August a $300,000 TV ad buy urging Collins to continue her "thoughtful and balanced approach" — a gentle nudge to vote for Kavanaugh.
The allegations
Ronan Farrow and Jane Mayer of
The New Yorker
reported Sunday that Ramirez, 53, attended Yale with Kavanaugh and said she remembers Kavanaugh exposing himself to her at a dormitory party.
Kavanaugh, who has denied Ford's accusation,
issued a denial
against Ramirez's allegation on Sunday, saying that the alleged incident "did not happen."
Kavanaugh was even more forceful in pushing back on Monday,
writing in a letter
to the Senate Judiciary Committee that the latest allegation to surface is "false and uncorroborated," and referring to the allegations he now faces as "smears, pure and simple."
On Thursday, Ford, the first woman to publicly level an allegation against Kavanaugh, is set to testify in an open hearing. Ford has alleged that Kavanaugh sexually assaulted her in the early 1980s. Kavanaugh has categorically denied that allegation as well.
Protests against the contentious nomination are likely to continue ahead of the hearing.
Trump on Monday dismissed the allegations levied against his Supreme Court nominee, calling them "totally political."
"And for people to come out of the woodwork from 36 years ago and 30 years ago and never mentioned it and all of a sudden it happens, in my opinion it's totally political," he said. "It's totally political."
Related posts