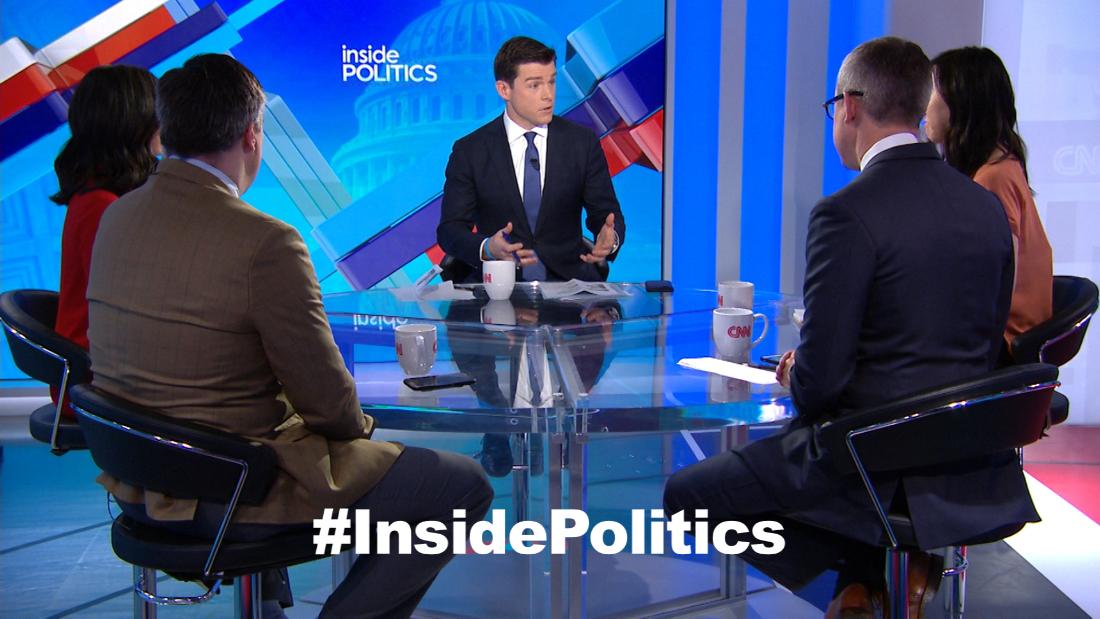 Washington (CNN)Here are the stories our panel of top political reporters will be watching for in the week ahead, in this week's "Inside Politics" forecast.
President Donald Trump doesn't like bad headlines — and Secretary of Education Betsy DeVos got a lot of them last week, as she tried to defend proposed cuts to funding for the Special Olympics.
"She defended that decision even though she didn't support it," Politico's Eliana Johnson said. "And then the President promptly announced he was reversing that decision. It's one of the many times the President has done that to his Cabinet secretaries."
Johnson said Trump and DeVos have never had a particularly strong relationship.
"We know the President very closely watches his Cabinet secretaries and their appearances on television and their testimony before Congress," Johnson said. "He did not like the way DeVos performed before Congress, even though she was defending him. I'll be watching how that relationship develops over the next couple of weeks and months."
2. NATO comes to Washington
NATO Secretary General Jens Stoltenberg will be in Washington this week, where he's been invited to address a joint session of Congress. He's marking the 70th anniversary of the Western alliance.
"But what this visit is going to do is really highlight the long-running tensions the President has with NATO," Washington Post reporter Seung Min Kim said. He frequently claims alliance members aren't paying their fair share of defense costs.
"He actually relayed that again in a private lunch with Republican senators last week on Capitol Hill," Kim said. "And during that lunch he also complained about NATO's headquarters and that it was all glass."
3. President's new immigration fight
But many in the US government think the move could prove self-defeating, CNN's Phil Mattingly said.
"US lawmakers and foreign policy officials continue to largely subscribe to the theory that aid directed at the heart of the issue is the best way to stem the tide of migration at its source," Mattingly said. "And did I mention the announcement came at the same exact time a delegation of senior House Democrats were visiting El Salvador? Those lawmakers are making clear they will fight the cut."
Mattingly said to expect this to be the beginning, not the end, of the story. "Congressional aides eying the developments say get ready for immigration to be thrust back in the forefront in the coming days."
4. 2020 fundraising race
This weekend marks a key fundraising deadline for the 2020 presidential candidates — the end of the first quarter. The announced candidates must declare how much money they've raised since joining the race.
New York Times reporter Jonathan Martin says to expect Vermont Sen. Bernie Sanders and former Rep. Beto O'Rourke to be leading the pack.
"What do they have in common? They have raised money almost entirely online," Martin said. "Further back in the pack, to the surprise of some people, Sen. Warren. I think going into this year, she was widely seen as one of the top candidates in the race. She's struggled to raise money."
Warren has sworn off holding big fundraisers. "It's crated a pretty robust internal debate in the campaign. She is deciding to go grassroots only," Martin said. "It's a bit of a gamble for her going forward, but she's decided that's the best way to go."
5. Democrats' Act 2
A historically large Democratic primary field could soon get even bigger.
"The second act of the primary is really going to begin this week," CNN's Jeff Zeleny said. "Six more candidates could get in in the month of April," in addition to the 15 who have already jumped in.
"Of course there's Joe Biden," Zeleny said. "The question surrounding him is, is there anything that would happen to keep him out of the race?"
Colorado Sen. Michael Bennet, former Virginia Gov. Terry McAuliffe, and Congressmen Eric Swalwell and Seth Moulton are among those who could still enter the race.
"So we're going to see a reordering of the race," Zeleny said. "No one has really seized control or command in the first quarter. The second one starts this week, and no one seems to be scaring anyone else out of the race."
Related posts