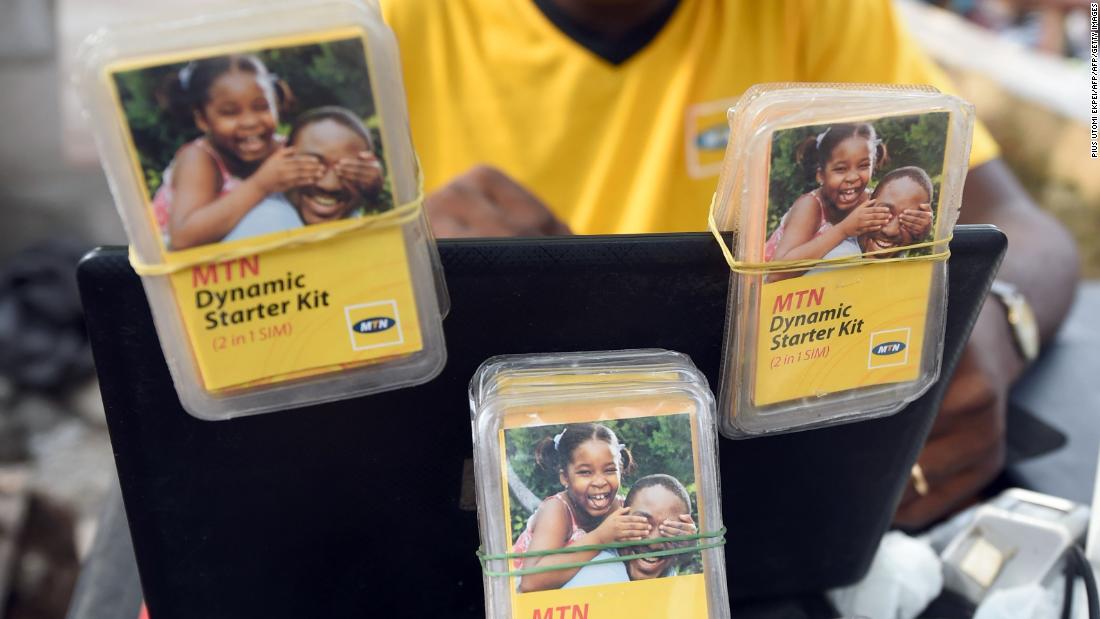 Lagos, Nigeria (CNN)Africa's biggest telecommunications company MTN is facing more troubling times in Nigeria, one of its biggest markets.
Now it faces a tax bill of more than $2 billion and repatriation demands of $8.1 billion, making a total of just over $10 billion it suddenly has to find.
The company denies all wrongdoing.
MTN disputes the $2 billion tax levy stating it paid $700 million for the required taxes over the 10-year-period in question.
In a statement, the mobile operator said: "Based on the detailed review performed, MTN Nigeria believes it has fully settled all amounts owing under the taxes in question.
"MTN Nigeria will continue to engage with the relevant authorities on all these matters, and we remain resolute that MTN Nigeria has not committed any offenses and will vigorously defend its position," it said.
Last week, Nigeria's financial regulator accused the company of remitting over $8 billion of profits from its Lagos operations to an unspecified location outside the country between 2007 and 2015, according to a statement from the Central Bank of Nigeria.
Other banking institutions were also implicated in the sanctions which have shocked the country's financial sector.
Four banks were fined $16 million for their role in aiding the transfer of funds on behalf of MTN, CBN said. The regulator described it as a "flagrant violation of extant laws," guiding forex repatriation in the country.
The company's group shares
fell
following the announcement Tuesday by Nigerian tax authority.
It is not the first time MTN has fallen foul of Nigeria's regulators.
The telecoms group was fined
fined $5 billion in 2016
, about half its annual revenue at the time, for failing to disconnect unregistered users from its network.
The levy was, however, reduced to $1.7bn following negotiations with regulators and the Nigerian government.
Sweeping sanctions
Analysts say Nigeria risks scaring away foreign investors with a heavy-handed approach as it tries to diversify and revive its ailing economy.
"Sanctions like these, placed on a company that has invested heavily and employed thousands of Nigerians across its operations only sends a message to foreign investors that the bigger your operations are, the more you will be targeted," said London-based Nigerian accountant Feyi Fawehinmi.
Investor confidence has dropped in recent years, latest figures show.
According to the
2018 World Investment Report
, foreign direct investment into Nigeria fell from a high of $8.8 billion in 2011 to $3.5 billion last year.
"There must be law and order for investors to invest. What has happened to MTN seems to suggest that the system is primitive and there is no protection of investor's rights.
"It will only make investors more nervous about the country," economist and businessman Bismarck Rewane says.
Nigeria's financial regulator declined to comment to CNN when contacted on Thursday.
Despite its burgeoning population and attractive market potential, Nigeria remains among the least friendly economies to do business in the world.
Although Nigeria rose 24 spots in the latest
'Doing Business'
ranking of countries' business environment, it is still rated 145 out of 190 economies.
Changing economy
Nigeria's economy is heavily dependent on crude revenue but
plunged into recession in 2016
,, following plummeting global oil prices and persistent attacks on oil pipelines in the volatile Niger Delta region.
The local Naira currency sank against the dollar amidst dwindling oil prices. As it now struggles to rebuild its fragile economy, analysts say friendly economic policies are needed to attract more investments.
"The level of investment in a country impacts directly on its GDP and Nigeria that is looking to shore up earnings from other sectors needs investors that have confidence in their system, and know that their rights are protected," Rewane says.
Fawehinmi believes regulatory infractions from businesses need not end with sanctions.
"This was not a one-off infraction on MTN. It was dug up over many years. They have also been paying taxes, so they should not be treated that way. Continued dialogue between regulators and businesses should be explored to resolve these issues," he says.
Related posts