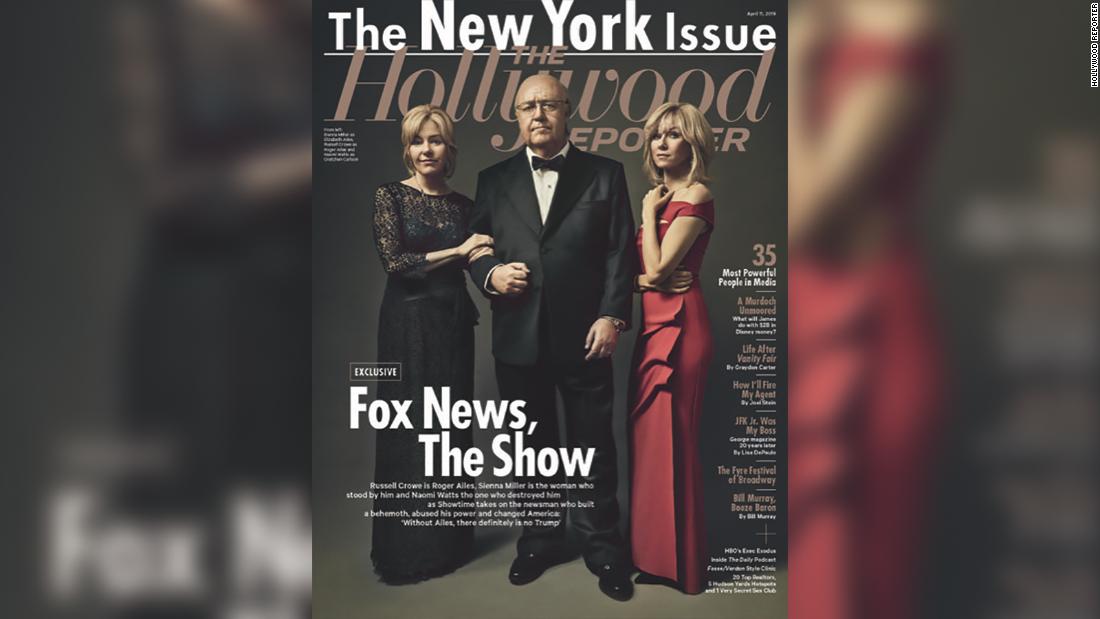 New York (CNN Business)The Hollywood Reporter unveiled its 2019 list of the most powerful figures in New York media on Thursday and this year it's composed of some of the most influential people in the news business.
The annual list typically reflects trends and changes in the fast-shifting media industry. With President Trump in the White House, Belloni and his staff believe that politics has been a major driver of the news cycle. This year's list includes a fair share of journalists and news figures who have amassed power and influence of their own by aggressively covering one of the most powerful offices in the land.
So who is on the list? A lot of names you might recognize from television news, major newspapers, and digital media ventures.
From the morning network news programs, ABC News chief anchor George Stephanopoulos, Good Morning America anchor Robin Roberts, GMA co-host Michael Strahan, CBS This Morning co-hosts Gayle King, Norah O'Donnell and John Dickerson, as well as Today show co-anchors Savannah Guthrie, Hoda Kotb, and Craig Melvin made the list. From the network evening newscasts, there is David Muir, Jeff Glor, and Lester Holt, anchors for ABC World News Tonight, CBS Evening News and NBC Nightly News, respectively.
Television news executives on the list include the president of ABC News James Goldston, chairman of NBCUniversal broadcast, sports and news Mark Lazarus, chairman of NBC News and MSNBC Andy Lack, president of NBC News Noah Oppenheim, president of MSNBC Phil Griffin, CEO of Fox News Suzanne Scott, president and executive editor of Fox News Jay Wallace, chairman of WarnerMedia news and sports and president of CNN Worldwide Jeff Zucker, and president and senior executive producer of CBS News Susan Zirinsky.
They are joined by, among others, the hosts of "The View" — Joy Behar, Whoopi Goldberg, Sunny Hostin, Abby Huntsman, and Meghan McCain.
Late-night hosts and comedians also take up more than a few spots on the list. Stephen Colbert, Seth Meyers, Jimmy Fallon, John Oliver, Trevor Noah, Hasan Minhaj and Samantha Bee all scored places on it.
The annual power ranking wouldn't be complete without cable news personalities.
MSNBC hosts Chris Hayes, Rachael Maddow, Lawrence O'Donnell, Joe Scarborough, and Mika Brzezinski earned spots on the list.
So did CNN hosts Anderson Cooper, Chris Cuomo, Don Lemon, and Brian Stelter.
And, of course, members of the Fox News lineup. Sean Hannity, Shepard Smith, Steve Doocy, Ainsley Earhardt, and Brian Kilmeade all earned spots.
There are some notable firsts on the list this year as well.
The New York Times journalists behind the "The Daily" podcast are making their inaugural appearance. Host Michael Barbaro and executive producer Lisa Tobin are on the list. Assistant managing editor of audio, film, TV and digital projects Sam Dolnick, who helped launch the popular podcast, also made the cut.
Belloni noted that "The Daily" has "broken through as the first really impactful news podcast."
"This is a general news podcast that has 8 million listeners and that is pretty significant," he said. "Michael Barbaro is a big star. And the fact that it comes from The New York Times is interesting. They have managed to leverage their expertise and brand in a new platform in a way other media outlets are trying to replicate."
Also from the Times, Maggie Haberman is on the list, and so are the newspaper's executive editor, Dean Baquet, and its publisher, A.G. Sulzberger.
The Wall Street Journal's editor-in-chief, Matt Murray, also secured a spot.
The heads of the major digital media ventures were also awarded spots.
Vice CEO Nancy Dubuc, HuffPost editor-in-chief Lydia Polgreen, Daily Beast editor-in-chief Noah Shachtman, and BuzzFeed editor-in-chief Ben Smith are on the list.
Related posts