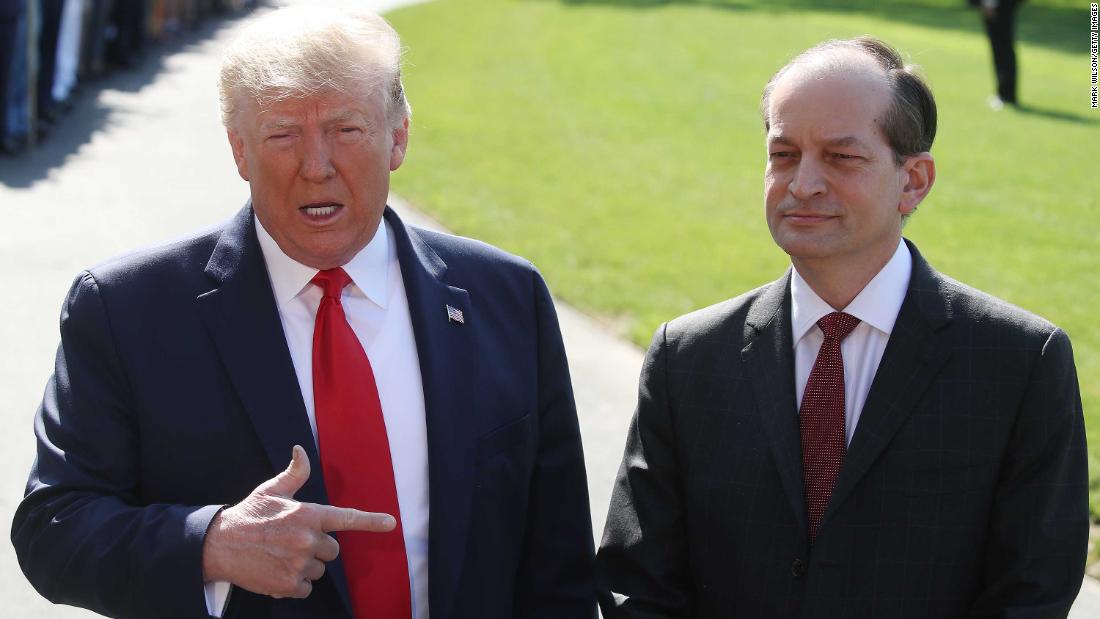 (CNN)"He did a fantastic job," President Donald Trump said Friday, as he stood next to Labor Secretary Alex Acosta on the South Lawn of the White House. "He's a tremendous talent. He's a Hispanic man, he went to Harvard, a great student."
CNN legal analyst Elie Honig, worked for eight years as an assistant US attorney in the Southern District of New York, the arm of the Justice Department that brought the new case against Epstein. He wrote that the money manager, "dodged justice the first time he faced criminal charges for trafficking and molesting children, exploiting a combination of wealth, influence, vile attack-the-victim tactics and an incompetent prosecutor."
"Acosta let him go with a plea to two minor state-level charges (for which he was sentenced to 13 months behind bars but served most of it on work release). The deal also inexplicably immunized Epstein's co-conspirators…Worse, as a federal judge ruled recently, Acosta violated the rights of Epstein's victims by entering into the sweetheart plea deal without notifying them first, as the law requires."
Trump said Friday he didn't think well of Epstein and had kicked him out of Mar-a-Lago years ago. In 2002, though, Trump was quoted by New York Magazine, calling Epstein a "terrific guy."
For nearly a week, Trump and his administration hinted that he might order a citizenship question to be added to the US Census, in defiance of a Supreme Court ruling that the government couldn't do so without providing a valid reason. And yet, when he came to the Rose Garden Thursday afternoon, he signaled defeat, instead endorsing a longstanding Census Bureau plan to get citizenship data through other means.
The zigzag followed days of confusing and conflicting signals; at one point the Justice Department even requested (but failed to obtain) permission from judges to replace its team of lawyers.
It was almost if the sequence of events was designed to prove that Britain's Ambassador to the US, Kim Darroch, was right when he secretly cabled his government that the Trump administration was "inept," "clumsy" and "uniquely dysfunctional."
Of course, Darroch's cables stopped being confidential a week ago, when the Daily Mail published a story on them. And by the end of the week, Darroch was out of a job.
Last week Johnson did his best to accommodate Trump, whom he may see as a kindred spirit. When the ambassador's job was hanging by a thread, and even though the UK government was standing behind him, Johnson refused to say he would keep Darroch in office in the face of Trump's outrage. Darroch immediately quit.
"My son grabbed me tightly around the waist and squeezed his eyes shut. 'Tell me when it's over!' he shrieked. Right as he said that, the shaking stopped." But the learning didn't.
Yang reflected on what would likely happen in the event of a major earthquake in a huge city like Los Angeles. A 2008 US Geological Survey report on the potential impact of a 7.8 magnitude quake predicted, he wrote, "Deaths in the multiple thousands, 50,000 or more injuries requiring emergency care, about $213 billion in economic losses, impassable roads and highways, shattered water lines that might take up to six months to repair and at least 1,600 fire outbreaks…"
There is an alert system that can provide 30 to 60 seconds of warning before a major quake, Yang wrote, but Trump "has zeroed out funding for the USGS's earthquake early warning" in two budget proposals.
The House Speaker criticized the four high-profile freshmen Democrats of "the Squad", including New York Rep. Alexandria Ocasio-Cortez, for failing to support the House's border bill: "All these people have their public whatever and their Twitter world. But they didn't have any following," she told Dowd. Pelosi later clarified that she did not mean the four did not have a public following but rather that they were unable to attract support among House Democrats for their stance on the bill.
Check out these other strong political takes:
In a news-filled week, there were many compelling perspectives that didn't make the top headlines, but which we recommend, along with one final take below:
"Like so many activities we undertake automatically – scrolling Instagram for hours, or mainlining syrupy lattes, it's only in its absence that we realize the toll it takes," Thomas wrote. "A realignment of priorities not only makes sense in terms of benefiting other areas of life. For some, it might also restore the potential for a more discerning alcohol intake that promises pleasure rather than pain."
Read more: http://edition.cnn.com/
Related posts