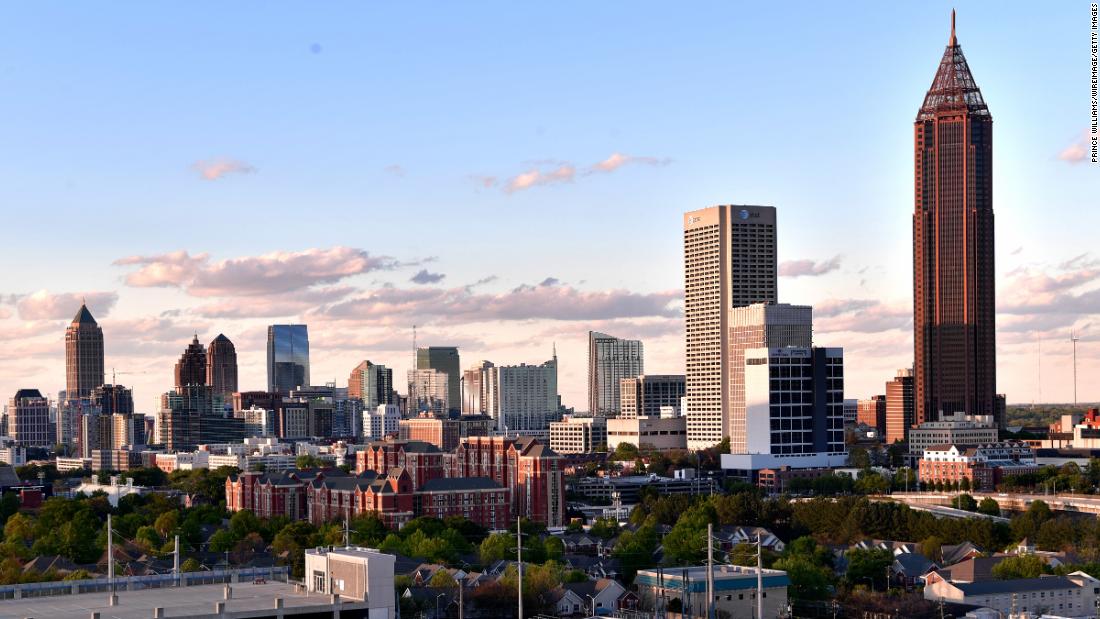 New York (CNN Business)A version of this article first appeared in the "Reliable Sources" newsletter. You can sign up for free right here.
Netflix's Ted Sarandos spoke out on Tuesday, and Disney's Bob Iger was asked about the issue on Wednesday. Iger told Reuters that it would be "very difficult" to keep making films like "Black Panther" and "Avengers: Endgame" in Georgia if abortions were effectively banned. He wasn't meaning to make news — he was speaking at the "Star Wars" land opening at Disneyland — but the combo of Netflix and Disney led reporters to reach out to all of their competitors on Thursday. By the end of the day, "WarnerMedia, CBS, Showtime, NBCUniversal, AMC Networks, Sony Pictures, STX and Viacom all said they would consider withdrawing from the state if the law survives legal challenges," Deadline's Dade Hayes
reported
.
Georgia has embraced the nickname
Y'allywood
to celebrate its entertainment biz bonafides. But the so-called "heartbeat" bill is putting all of that at risk…
What's going on here
The companies are flexing their financial muscles — warning that they might have to give up Georgia's generous tax incentives and leave the state — citing the concerns of the predominantly liberal-leaning stars and producers who make their comedies, dramas and other productions.
Georgia is the epicenter for TV and movie production in the south, but other states have also passed similar bills this year — bills that are designed in part to provoke a court fight, potentially leading to a Supreme Court reexamination of abortion rights. NBCUniversal cited this legal reality in its
statement on Thursday.
"We fully expect that the heartbeat bills and similar laws in various states will face serious legal challenges and will not go into effect while the process proceeds in court," the company said. "If any of these laws are upheld, it would strongly impact our decision-making on where we produce our content in the future."
"We will watch the situation closely"
AT&T's WarnerMedia, the parent company of CNN along with HBO, TNT, the Warner Bros. studio and other entities,
said Thursday
that the company may stop making "new productions" in the state if the bill takes effect. "We operate and produce work in many states and within several countries at any given time and while that doesn't mean we agree with every position taken by a state or a country and their leaders, we do respect due process," WarnerMedia said. "We will watch the situation closely and if the new law holds we will reconsider Georgia as the home to any new productions. As is always the case, we will work closely with our production partners and talent to determine how and where to shoot any given project."
→ Context for the statement,
via THR
: "WarnerMedia is currently filming 'The Conjuring 3' in the state and will soon shoot the 'Suicide Squad' sequel there. On the television side, Jordan Peele and J.J. Abrams' show Lovecraft County and The Outsider, executive produced by Jason Bateman, are both in production in Georgia for HBO…"
→ And: WarnerMedia has thousands of employees in Georgia, including at the headquarters of CNN in Atlanta. One distinction between existing operations and one-off movie and TV productions is that employees are generally eligible to vote and engage in state politics, while actors and producers who fly in for a few months to shoot a movie are not…
What about "The Walking Dead?"
I was interested in seeing AMC Networks' statement because "The Walking Dead" has been based in Atlanta for ten seasons. "If this highly restrictive legislation goes into effect, we will reevaluate our activity in Georgia," AMC said. "Similar bills — some even more restrictive — have passed in multiple states and have been challenged. This is likely to be a long and complicated fight and we are watching it all very closely."
Dobbs says the "other side" will retaliate
On Fox Business Thursday night, Lou Dobbs warned that execs at Disney, Netflix, etc would be "violating their fiduciary duties" by withdrawing from Georgia. "If Iger and Sarandos carry out their threats,"
he said,
"retaliation from the other side will follow. And it will escalate — to the disadvantage and destruction of all." I wish Dobbs would've elaborated, but he didn't…
The big picture
Via
TheWrap's Sharon Waxman: "Initially, the major entertainment companies were slow to react after Georgia Gov. Brian Kemp in early May signed into law a so-called 'heartbeat' bill…" But "Hollywood started to feel the heat from its own community." And that "clearly led to the avalanche of opposition this week."
Waxman said
the companies "hope that the courts will solve the problem for them" — by rejecting the strict laws — but "for the moment, Hollywood and the red states are headed for a showdown."
BTW: Explaining Reed Hastings' donations to anti-abortion legislators
In his
Popular Information newsletter
, Judd Legum pointed out that Netflix CEO Reed Hastings has "donated $143,000 to 73 Republican members of the Missouri legislature (and Governor Mike Parsons) who just passed an abortion ban nearly as restrictive as Georgia."
A source close to Hastings
told CNN Business
that Hastings donated the money for education purposes: "All of these personal donations from Reed, on both sides of the aisle, were made in support of a specific piece of legislation aimed at improving the availability and quality of charter schools in Missouri. Reed's private support of educational causes is well known and these personal donations stem directly from that."
Bill Nye hops on the "Reliable" podcast
Fresh off the release of his new podcast, "Science Rules!," Bill Nye unpacked the pressing questions of our day, and how the press is faring in covering them, on
this week's "Reliable Sources" pod
. Nye spoke with me about climate science, deniers, dinosaurs, vaccinations, and the new NYT reporting about UFOs…
Listen via Apple Podcasts,
TuneIn,
Stitcher,
or your preferred app…
FOR THE RECORD
— Ronan Farrow made a surprise appearance at BookExpo on Thursday… and shared a little bit more about his forthcoming book "Catch and Kill," about Harvey Weinstein and NBC and his own reporting… (
Vulture
)
— Joe Pompeo's latest: "The New York Times is lately advising reporters not to go on opinionated/partisan cable news shows like Maddow, in a reinforcement of their guidelines governing broadcast media appearances…" (
VF
)
— Vox's Dara Lind and Future Tense's Kirsten Berg are joining ProPublica… (
ProPublica
)
Related posts