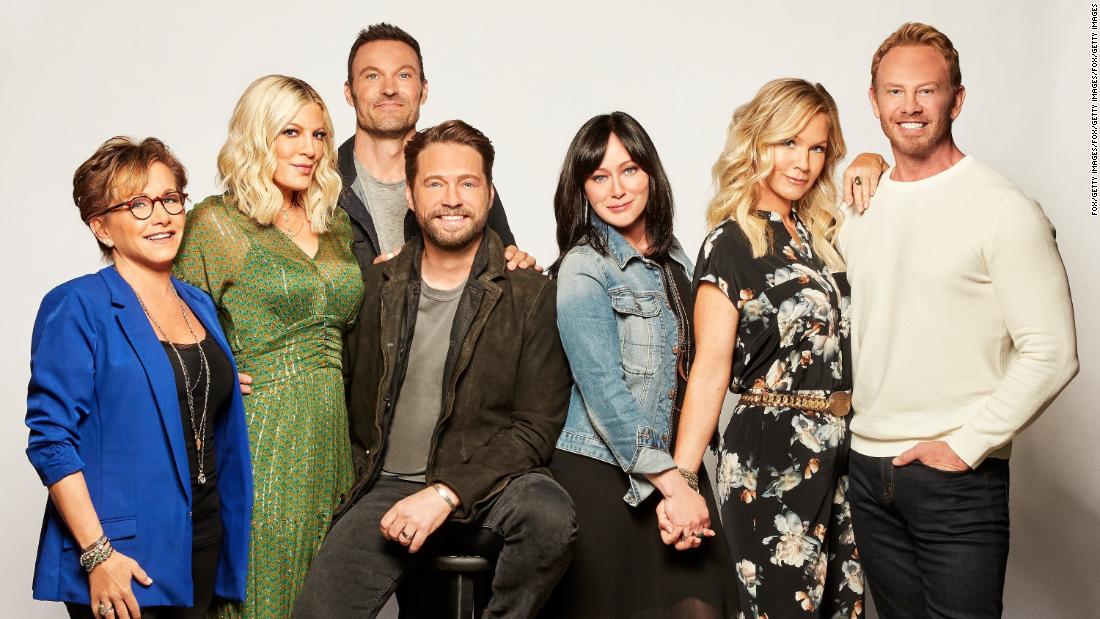 (CNN)Luke Perry might be gone, but he was far from forgotten in the premiere of Fox's "BH90210."
In one somber moment, his costars, who are playing heightened and fictionalized versions of themselves, reflect on how fleeting life (and fame) is.
The episode also ends with a clip from "The Green Room," the second episode ever of "Beverly Hills, 90210" and the first one to feature Perry in all his smoldering '90s-take-on-James-Dean glory. Text appears on the screen that reads, "For our friend, Luke Perry."
"We knew we had to acknowledge and pay tribute to him (because) obviously it was a very painful loss for us; everyone knew him and we wanted to do it in as respectful a way as possible," Chris Alberghini, one of the series' executive producers, said on Wednesday during the show's Television Critics Association press day.
He said various tributes were discussed among the cast but they ultimately "found a way (to do it) that felt commemorative."
Costar Jennie Garth confirmed that Perry was approached about the reboot before his death and she said he was "fully in support of it." However, the extent of his involvement is unknown as he was under contract with the other teen drama for which he's known, The CW's "Riverdale."
Shannen Doherty said Perry's passing helped solidify her own return to the show.
Doherty, who played one of Perry's on-screen love interests, Brenda Walsh, said she "definitely wasn't going to do" this version of the show. But, "when Luke passed away, things drastically changed for me (and) I felt like it was a great opportunity to honor him."
Doherty is also
set to appear
in an upcoming tribute to Perry on "Riverdale."
Related posts