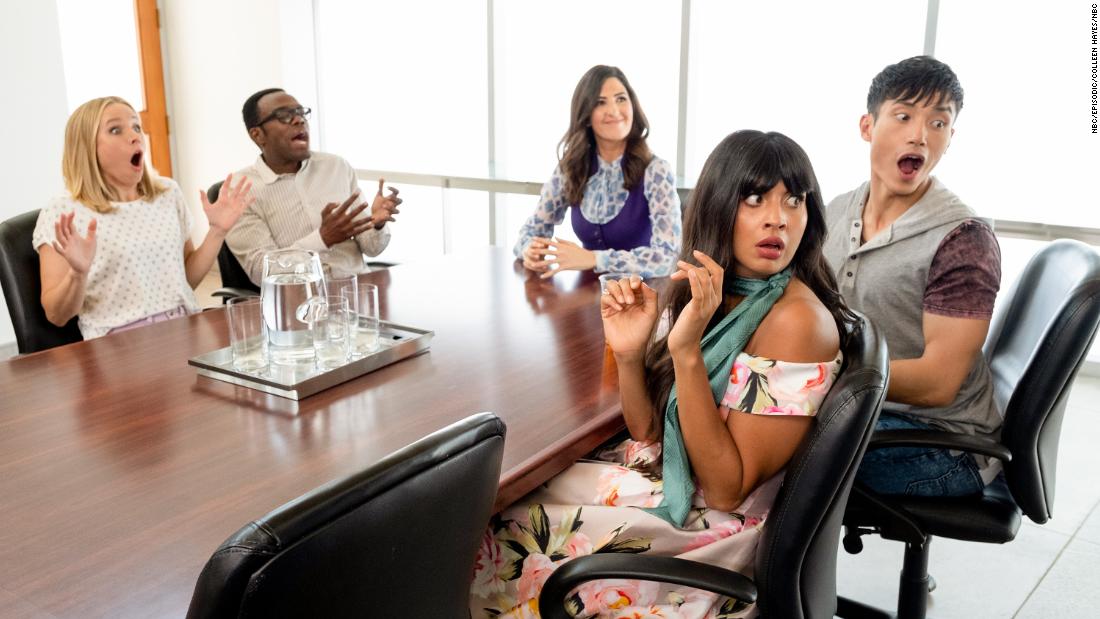 (CNN)"It felt a little bit like what I imagine sending your kid off to college feels like," says Kristen Bell about wrapping up "The Good Place," currently in its fourth and final season on NBC. "It's a good and bad feeling."
"I refuse to spend my final moments being allowed to play with these people in misery — I think that would be pitiful," says Bell. "I didn't want to let that ruin it, because it is a gift. It really does feel like we did it for a reason, and when you see the ending you'll know."
When the finale comes, it will mark the end of a long, always fitfully funny but also moving journey of striving for enlightenment and self-betterment in the afterlife of a group of damned souls — Eleanor (Bell), Chidi (William Jackson Harper), Tahani (Jameela Jamil), Jason (Manny Jacinto), plus the reforming demon Michael (Ted Danson) and the ultimate Siri/celestial automaton Janet (D'Arcy Carden). It's meaty philosophical, territory peppered with silly swear word substitutes.
"This is paying us to go to college," laughs Amram.
The show's conceit, to strive to be better even in the face of eternal damnation, proved downright infectious.
Much of that is a result of the people Schur invited in to "The Good Place's" world, says Stasky.
But will it have a lingering effect on the way its viewers choose to impact the world?
Harper, however, offers anecdotal evidence to suggest otherwise.
Related posts