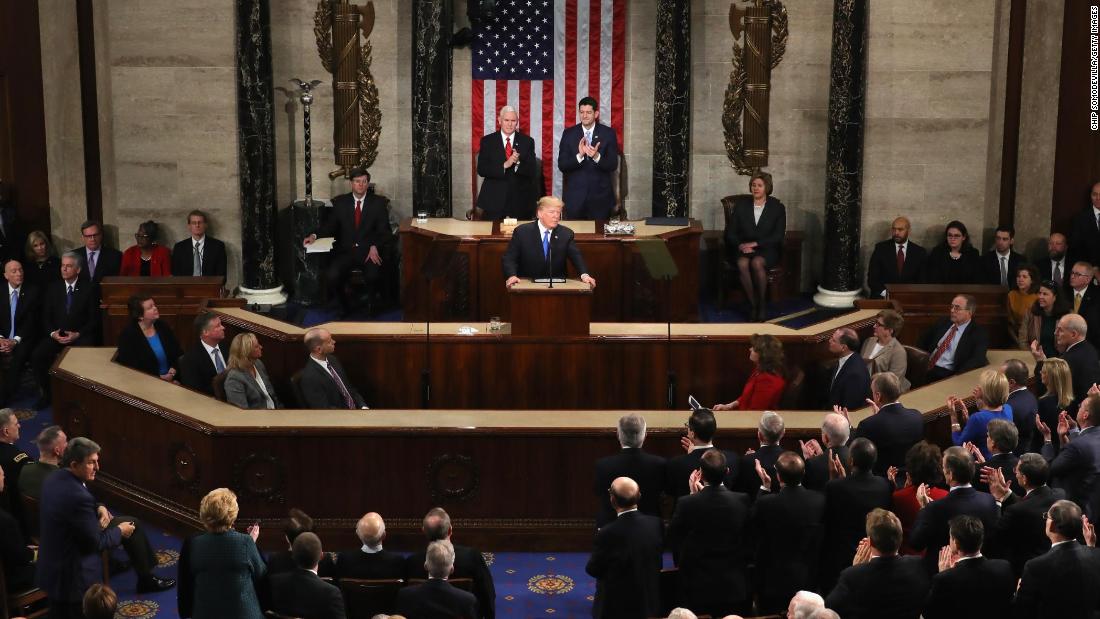 New York (CNN Business)A version of this article first appeared in the "Reliable Sources" newsletter. You can sign up for free right here.
Analytical work by the
Washington Post
and other outlets confirmed what many of us have felt: That Trump's level of lying, of deceit, has been getting worse. Television news divisions are in the business of broadcasting true information, so the SOTU is more of a dilemma this year than it was last year.
Fact-checkers are "busting their behinds" trying to keep up with Trump, David Zurawik told me the other day. "They're busting their brains trying to figure out better ways." Here's an example worth watching: The Reporters' Lab is attempting live fact-checking of the address with WaPo, PolitiFact and FactCheck.org
through a new app called FactStream.
The app is great. But the mass audience watching on TV should be told about the president's egregious distortions and attempts to stoke fear. In some ways this is a repeat of Trump's Oval Office address last month. Will journalists keep the truth front and center?
"Visuals matter more than anything else on television," Zurawik said on Sunday's "Reliable Sources." And the visual will feature "Nancy Pelosi standing behind him over him, literally, with that gavel. I don't know how he's going to deal with that… That visual is going to speak volumes…"
→ Jeff Greenfield writing for Politico: "The State of the Union address rarely matters, but
this one does…
"
The guest list
The NYT
noted that numerous Democrats are planning to send "pointed messages to President Trump with their choices of guests" in the chamber on Tuesday night.
Details here…
Daniel Dale summed up the White House's list of Trump's SOTU guests in 280 characters: "family of couple killed by unauthorized immigrant; human trafficking investigator; survivors of Pittsburgh massacre; Alice Johnson; recovering opioid addict; re-hired sawmill employee; child cancer survivor; kid bullied for being named Joshua Trump."
After the SOTU…
The cable newsers will go late into the night with live coverage. Stephen Colbert will also be live, with the CBS morning crew of Norah O'Donnell, John Dickerson, Gayle King and Bianna Golodryga, plus Spike Lee. And Jimmy Fallon will be taping a post-SOTU monologue and a chat with Savannah Guthrie…
Beto with Oprah on Tuesday
Expect to hear a lot about this on Tuesday: Beto O'Rourke is one of Oprah Winfrey's guests at a live event called "Oprah's SuperSoul Conversations from Times Square."
The other guests are Melinda Gates, Bradley Cooper, Michael B. Jordan, and Lisa Borders… Each of the interviews are being taped for later use on OWN and Oprah's podcast… But lots of journalists are credentialed to be in the theater, so whatever Beto says will be picked up far and wide…
New members of the Post's Press Freedom Partnership
On Tuesday the Washington Post will announce two new members of Press Freedom Partnership it established in the wake of Jamal Khashoggi's murder last fall. The new additions are the International Women's Media Foundation and the James W. Foley Legacy Foundation
FOR THE RECORD
— Given the ridiculous right-wing conspiracy theories about RBG's health, this is noteworthy: Ruth Bader Ginsburg "on Monday night made her first public appearance since undergoing cancer surgery in December, attending a celebration of her life presented in song…" (
WaPo
)
— Jill Abramson's book "Merchants of Truth" drops Tuesday… In this new WaPo piece, she says editors "remain addicted" to "reactive coverage that revolves around the president's words and tweets…" (
WaPo
)
Related posts