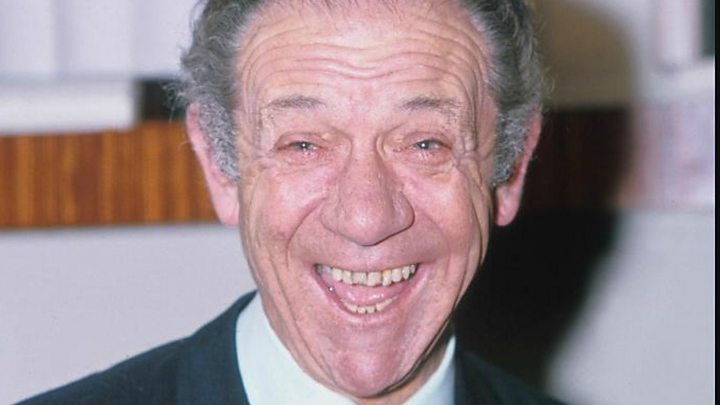 An interview with Carry On legend Sid James has been recovered after 42 years sitting in a loft.
It is the last-known recording of the comedy star, and thought to have been recorded days before he died on stage during a UK theatre tour.
The lost interview was found on an unlabelled reel belonging to former BBC radio presenter Jeff Link.
It was found during the making of a radio documentary to celebrate the 60th anniversary of the Carry On films.
The conversation reveals James's thoughts on his work with comedian Tony Hancock, his many popular appearances in the Carry On series, and his quest to maintain a new fitness regime.
He looks ahead to a seventh series of the hit ITV sitcom Bless This House – a series which was never made as a result of James's death.
The star can also be heard joking about the many members of the public who don't realise he isn't a British-born cockney. "They are surprised when they hear that I'm a South African."
Reina James, the actor's daughter, said: "It is a very special interview for me personally, as I saw him when he was doing The Mating Season, not knowing it would be the last time I'd ever see him.
"To hear him talking just before he's about to die… there's something hugely moving about that."
His other daughter, Sue James, added it was "a lovely and sympathetic interview".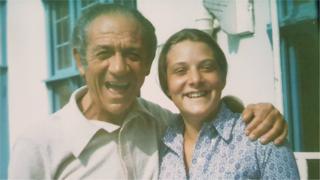 Jeff Link presented the mid-morning show for BBC Radio Solent in the 1970s and interviewed James in Bournemouth on 22 March 1976, while he was touring the UK in a production of The Mating Season, which was billed at the time as an "uproarious family comedy".
A few weeks later, on 26 April, James collapsed shortly after the start of the show on its opening night at The Sunderland Empire.
Link recalled the entertainer being in good spirits, adding: "He invited me to see the show, which I did at the Bournemouth Pavilion. He looked so well and he even demonstrated his fitness regime, which was doing skipping without a skipping rope.
"He seemed in good health so I was so shocked and surprised when I heard the sad news [of his death]," Link added
Since 1976, the recording has been in a box in Link's loft, moving from house to house as the presenter changed jobs within the BBC.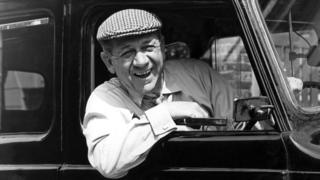 It was not labelled, but Link recalled making an effort to keep the reel as he was pleased with the interview.
"We normally kept tapes for a week… they had to be recycled because it was reel to reel. There was also a shortage of magnetic tape due to an oil crisis. It's one of the few tapes I still have."
BBC documentary producer Richard Latto said it was a remarkable discovery.
"This is a very special recording as you very rarely hear interviews with Sid, and it is especially candid with what I call the 'local-radio cuddle factor', which brings out a very relaxed conversation."
After recovering the interview and certifying its authenticity, Latto located Sid's two surviving daughters.
"To be able to safely reunite the recording with his family was very pleasing as they were incredibly grateful and it felt like they should hear their father's words before we considered how best to present the interview in our special documentary."
James's biographer Robert Ross said: "Sid didn't give that many interviews and very few survive."
"He sounds really good and is even doing his own 'Carry On laugh'. It's such a shame because there are so many shows you saw in the late 1970s and early 1980s where you thought Sid could have done that."

How big a star was Sid James?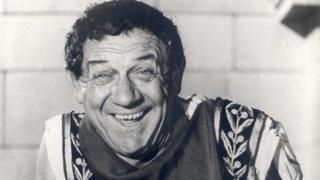 Sid James was known to millions after many successful stints in a multitude of iconic British shows. On the radio he was a friend and sparring partner of Tony Hancock in more than 100 episodes of Hancock's Half Hour.
The show was so popular, fish and chip shops across the UK used to shut early as people rushed home to catch the latest episode.
When the show transferred to television so did James and Hancock, although Hancock did the last series alone to avoid becoming part of a perceived double-act with James.
Unlike Hancock, James was already a star of many cinematic feature films, including The Lavender Hill Mob and The Titfield Thunderbolt.
In 1960, the producers of Carry On Constable appointed James in the role of Sgt Frank Wilkins. His association with the series would last more than a decade and he starred in a total of 19 of the Carry On cinema releases.
James also starred in several of his own TV series while juggling many appearances at theatres across the world. When he died of a heart attack on 26 April 1976 he was 62 years old.
The full interview will be broadcast in Carry On Up The Archive – a celebration of 60 years of the Carry On films on BBC Local Radio over Christmas 2018.
Related posts