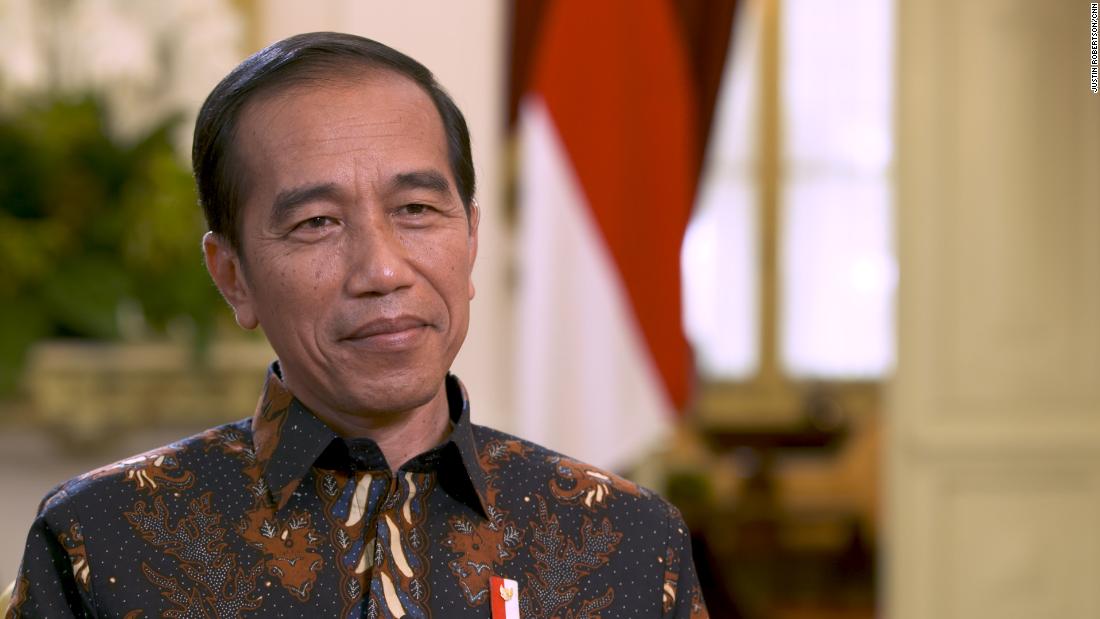 Jakarta (CNN)In his first international television interview since being re-elected in May, Indonesian President Joko Widodo denied being concerned about the rise of fundamentalism in his country, saying that the Islam practiced there is tolerant and progressive.
In his second term as leader, Joko faces an uphill battle of uniting the world's most populous Muslim nation, and fighting what he calls "hoaxes and fake news that influenced the mind of the people."
"We now have to restore the situation and work together to build this country," he said, at the Merdeka Palace in Jakarta.
Joko denied that he befriended hardliners to win the election, suggesting his outwardly secular values had not been compromised.
"We would like to work with all elements of society. We would like to work with everyone to develop this country, but not with those who want to ruin this country in terms of its ideology and in developing our economy. There is no compromise for me," he said.
Joko called Amin a "moderate Muslim" and said it was logical to have a cleric running mate in a country that has the largest population of Muslims in the world.
"I'm not going to change," he said. "I will not change what I believe."
While the President upholds that Indonesia is a tolerant and diverse society, rights groups say there is rising intolerance from hardline religious groups, especially against religious minorities and the LGBT community.
Ahok was released in January after serving just under two years in jail, but the incident showed religious fundamentalism to be a powerful force.
"Although Jokowi issued a plea for religious tolerance in his annual State of the Nation address on August 16, his administration has failed to translate his rhetorical support for human rights into meaningful policies during his first term in office," the report's authors said.
"Tolerance in Indonesia, we can see. Everybody has good tolerance. However, when it comes to regulations and laws, I can ensure you, there will be major rejection by the people," he said.
While the LGBT crackdown was driven in part by Islamic hardliners, Joko said he is not worried about the rise of religious fundamentalism in Indonesia.
In a country of 267 million people, spread across 17,000 islands it is normal to have "two, three, four percent of people who are hardliners," he said.
"It is the obligation of the country to know how to embrace them. So that (is) the goal of this country: to become an opulent, just and prosperous country," he said.
Following an enormous backlash — from liberals as well as hardliners — Joko backed away from the plan. Bashir remains behind bars and on his fate Joko is now unwavering. "The final decision was no," he said.
"There are certain cases where we can embrace them, and return them to normalcy. But, if it is hard to do, then the hard approach is done through strict law enforcement. We do not tolerate terrorism in Indonesia," he said.
Joko said deradicalization programs were working.
"Major terrorists have returned to society, established foundations to embrace ex-terrorists who can live normally. That is the success of deradicalization in Indonesia," he said.
But Joko's focus remains on the economy and on Indonesia's development.
To achieve that goal, Joko said: "We must conduct reform on a massive scale."
That means teaching workers new skills, introducing tax reform and attracting investment and building the large-scale infrastructure projects that have become a hallmark of Joko's presidency.
Joko said Indonesia won't fall prey to the so-called "debt-trap diplomacy" problem, because the deals made were business to business, he said, and will "benefit the national interest of Indonesia."
Indonesia — the world's most populous Muslim nation — was not a signatory.
While Joko said he "continues to monitor problems in China" with regards to Uyghurs, "To be frank, I do not have enough data about that," he said.
Related posts