Were not fooling around: Democratic pair say inquiry will not be slowed and condemn president over blatant effort to intimidate witnesses
Donald Trump has been accused of incitement to violence and threatened with obstruction charges in the fast-escalating battle over impeachment, as the president maintained his aggressive counter-attack against Democratic leaders and the whistleblower who precipitated the inquiry.
Were not fooling around here, Adam Schiff, the chair of the powerful House intelligence committee, said in Washington on Wednesday.
Elijah Cummings, the chair of the House oversight committee, revealed that it would issue a subpoena to the White House if it failed to hand over documents on contacts with Ukraine by Friday.
I do not take this step lightly, Cummings said, saying the White House had stonewalled on demands for cooperation for several weeks.
The Democrats investigative steps have infuriated Trump, who was live-tweeting their press conference on Capitol Hill. He denounced the impeachment process, in block capitals, as BULLSHIT and later repeated an extreme claim that Schiff should be investigated for treason.
The speaker of the House, Nancy Pelosi, announced the start of the impeachment inquiry eight days ago, focusing on a whistleblower complaint that emerged the week before about a July phone call between Donald Trump and the Ukrainian president, Volodymyr Zelenskiy.
The complaint and a memo of the call issued by the White House have since been released, indicating that Trump asked Zelenskiy to investigate Joe Biden, a leading rival for the White House in the 2020 election, while the US was withholding vital aid from Ukraine.
Schiff insisted on Wednesday that the inquiry would not be slowed down by presidential stonewalling or threatening language against potential witnesses.
Were very busy, Schiff said. We are proceeding deliberately but at the same time we feel a real sense of urgency here.
Democratic-run House committees heard from the state departments inspector general, an independent watchdog, on Wednesday, followed by the former special envoy on Ukraine on Thursday and the former ambassador to Kyiv next week. But they are battling with the secretary of state, Mike Pompeo, about other depositions by state department officials and the handover of relevant documents.
Schiff and Pelosi condemned Trump for rhetoric directed at an intelligence agency whistleblower who revealed details of the phone call at the core of the impeachment proceedings.
Trump has referred to the whistleblower and the officials who provided information included in the complaint as spies and implied they should face the death penalty. Senior officials and some leading Republicans have confirmed the whistleblower used recommended legal channels but Trump repeated the spy allegation on Wednesday.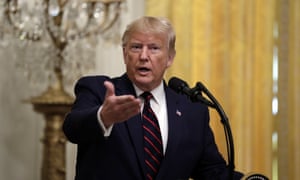 Related posts