Bonhams to sell massive artwork at Goodwood Revival sale next month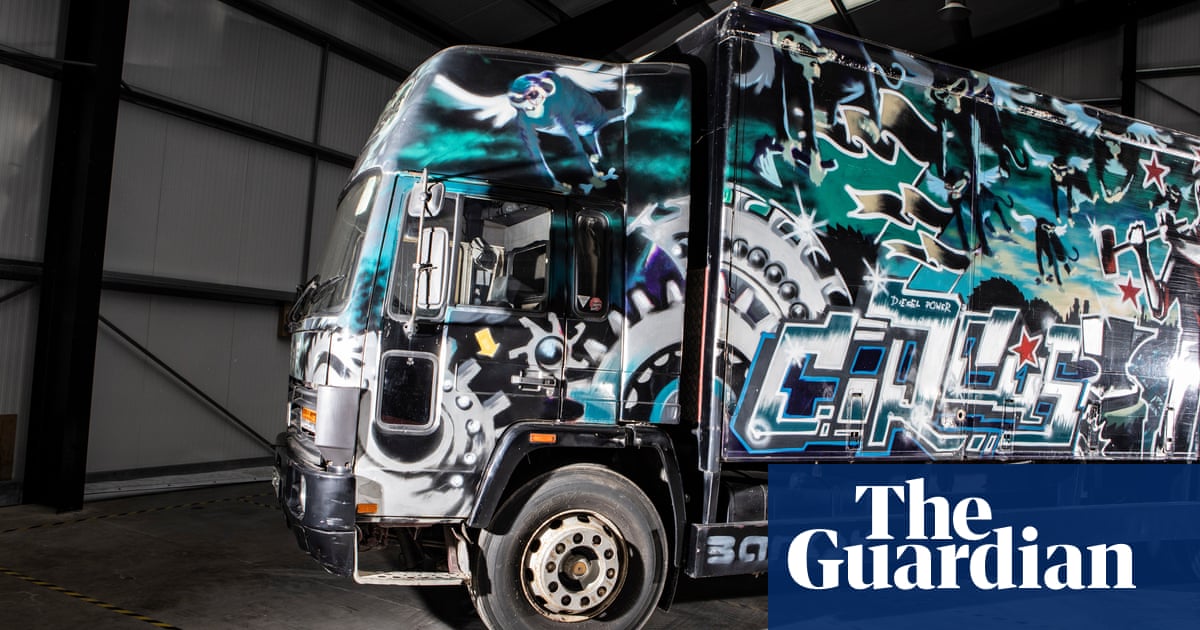 Among the gleaming Bugattis, Aston Martins and Porsches at one of the UKs premier car auctions next month will be a 17-tonne truck with a price tag to match them all.
Bonhams has announced it is selling what can arguably be called Banksys largest art work at its Goodwood Revival sale on 14 September.
The truck was covered with graffiti by Banksy in 2000, when he was still very much under the art worlds radar. While a used Volvo FL6 box truck might cost a buyer somewhere in the low thousands of pounds, this one is estimated at between 1m-1.5m.
Ralph Taylor, Bonhams head of postwar and contemporary art, said he was thrilled to have the work in the sale.
Banksy is arguably the most important artist to have emerged since the millennium and this, his largest commercial work, represents a new high watermark of quality for works of his to appear at auction, Taylor said.
The composition bears all the hallmarks of this peerless agent provocateur.
The artist was at an open-air party in Spain to celebrate the millennium when he was presented with the truck by Mojo, the co-founder of Turbozone International Circus.
He started on the truck during the party and continued to work on it for a fortnight. It was then used, for years, as the companys transport around Europe and South America.
The truck is called Turbo Zone Truck (Laugh Now But One Day Well Be in Charge). It is funny and anarchic and has flying monkeys, soldiers running away from a cannon and a man about to smash a TV screen with a hammer.
Bonhams said the over-riding message of the piece was anarchy its us against them and were going to win..
Taylor said there was no getting away from what the work was. It is an enormous great lorry, he said. Contemporary art can be anything, from a small painting to an installation that takes up an entire room. This is a 17-tonne lorry and it is completely painted. Its an immersive experience it is incredibly impressive when you see it.
Taylor said the work was from a pivotal moment in Banksys career, a time when he was beginning to work in the studio, as well as on the street, producing work that he would show in self-staged exhibitions.
The lorry has motifs seen over and again in Banksys work, particularly monkeys. One image is a riff on Soviet-era posters of industrial work, with Banksy showing a factory worker with a Mohican smashing a television.
There are references to art history and to social history, said Taylor. Banksy is always at his best when there is that kind of vicious black humour. When its funny, thats when its good and thats why he is so successful, that is why he keeps on being voted the nations favourite artist. It feels like hes been coming top of those polls for a decade.
The lorry was done at a time street artists were often considered a menace, the reason why Banksy always pictures himself as a rat and calls his company Pest Control.
For someone to give him free rein to paint an entire lorry that would then travel around would have been such a huge gift and opportunity, to have such a big canvas with no risk of getting arrested.
The market for Banksy is a strong and global one, said Taylor. The auction record is for one of his works is $1.9m a Damien Hirst spot painting on to which Banksy has stencilled a maid doing the cleaning.
Last year the art world was left stunned as a Banksy work, Girl With Balloon, began to shred itself after the hammer went down at Sothebys in London for 1.04m. It was given a new title by Banksy, Love is in the Bin and is the only artwork ever created live during an auction.
Bonhams said it expected strong interest from institutions as well as collectors passionate about collecting unusual vehicles.
The truck will be sold by the auction house on the Goodwood estate in West Sussex, the ancestral home of the Duke of Richmond, founder of the Goodwood Festival of Speed and the Goodwood Revival.
One of the more traditional highlights of the 14 September sale is an ultra-rare 935 Bugatti Type 57 Atalante Faux Cabriolet, which has an estimate price of 1m-1.5m.
Three years ago Bonhams sold a Banksy Swat van which he created for his break out Barely Legal show in Los Angeles. It fetched 218,500.
Related posts