Danielle Staub sets the record straight!
As we wrote, Us Weekly reported that the Real Housewives of New Jersey star broke up with her fiance of less than a week, Oliver Maier!
EXCLUSIVE! Danielle Sued For Allegedly Ditching Charity Event!
Well, according to her Instagram Story earlier this week, the two are still together!
In a video featuring the couple, Staub said:
"Per the rumors that he and I are not together, here I am with my love."
She then proceeds to kiss the businessman, adding, "Here you go!" Maier then reciprocates by telling the 56-year-old, "I love you."
In the clip, the two are at the Baccarat hotel in NYC, where Maier first kissed the Bravolebrity.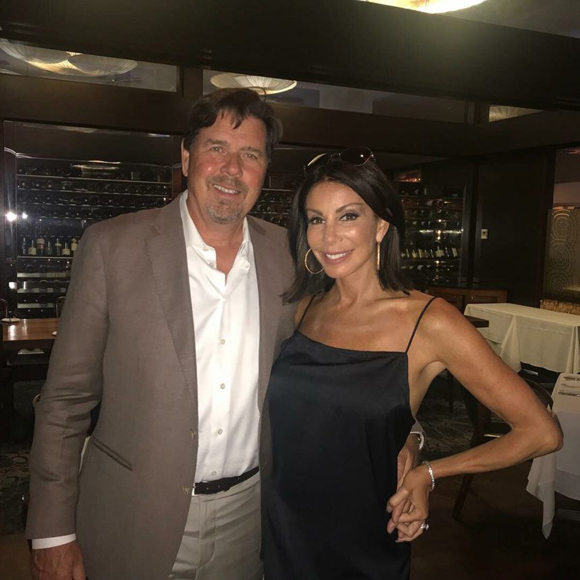 As we reported, he proposed to the television personality while the two visited the Cheval Blanc maison in St. Barths.
While they were supposed to marry at the Justice of the Peace in New York City on Monday, their nuptials have been postponed.
An E! News source said over the weekend:
"Danielle and Oliver are temporarily postponing their wedding but are still very much engaged… Danielle is going to spend a few days with her daughters recognizing this all happened very fast. Her children have always been her number one priority and that will never change."
The two met in October 2018 through a mutual friend whom Maier was dating at the time.
Maier is reportedly the Duke of Provence, which means Staub is going to be a duchess. Additionally, the venture capitalist said his family owns 15 vineyards in the South of France as well as two castles.
He was previously married once, and shares a 12½-year-old child with his ex-wife.
Staub previously married Marty Caffrey at a ceremony in the Bahamas in May 2018. In August 2018, Marty filed for divorce after four months of marriage. Earlier that month, the two obtained (and dropped) temporary restraining orders against each other.
In response to reports that Staub and Maier broke up, Caffrey told Us Weekly:
"I wish, and will always wish, [for] Danielle to achieve true love and happiness… I fell in love with her, remember? And although I divorced her last August, this still troubles me."
In reference to a pic Staub posted of her and Maiers kissing at a beach in St. Barths (SEE HERE), Caffrey remarked:
"I had early suspicions and doubts about the sincerity about this St. Barths nonsense… Oliver and Danielle would serve themselves well by putting their feet on the ground and staying there forever. I doubt either can."
This is Staub's 21st engagement.
[Image via Danielle Staub/Instagram.]
Related posts